Francis Tipene – Dip.FD
Chief Operations Officer / Senior Funeral Director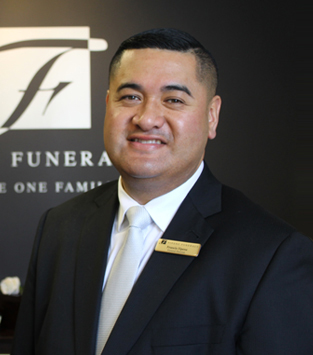 A father of five children, hailing from the Northland, Pawerenga then further moving to the big smoke to start a new life and carry out his passion for helping people…
As a recent graduate of the Funeral Directors course from WelTec with over 8 years as the Operations Manager and Funeral Director of his own company and a combined 13 years of experience from within the industry, Francis comes with a substantial amount of experience and expertise from serving families in their time of need; providing paramount services in bidding farewell to family's loved ones.
Francis started in the industry over 15 years ago when he first got his opportunity to work as a Duty Driver in Auckland. From there his career started once he realised that his job's passion grew and became a vocation. Working his way to becoming a Funeral Director, Francis can be remembered by many families for the work he's done for many of the well-known funeral homes in Auckland allowing him to serve families with the greatest professionalism, respect and dignity.
Francis' role as the Managing Director, Chief Operations Officer and qualified Funeral Director of Tipene Funerals includes full management and strategic direction of the operations for the company whose drive and ambition is to bring a high level of quality of care given to family's loved ones.
By ensuring the life of your loved one is celebrated with dignity and respect, Francis continues to develop Tipene Funerals through ensuring families and their loved ones are placed at the centre of the core where their life is celebrated.