Logan Tipene
Funeral Assistant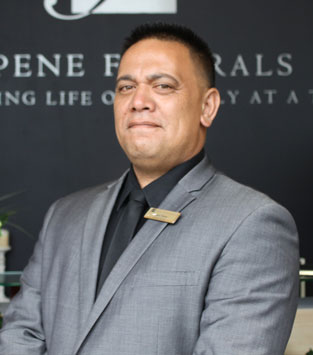 Born in Cambridge within the Waikato before moving to a humble little town in the Far north called Kaikohe, and then making the big shift to Australia for five years before one more move home to Auckland, Logan comes to Tipene Funerals as a Funeral Assistant working with families in their time of need.
As a father to a young boy and the eldest of 7 brothers and sisters, Logan's mix comes from a rich history of Maori and Scottish descent.
Coming from a background in Hospitality, Graphics Design – Computer Generated Images and healthcare, Logan brings a variety of skills and expertise to his role when working with his families, particularly in the pre-arrangement stages of funeral planning.
Logan's role as a Funeral Assistant consists of working with families of all nationalities, religions and backgrounds by providing funeral assistant services to funeral directors where required. From transfers, administration, dressing and casketising to funeral attendance, coordinating families and supporting in the role of funeral home maintenance, Logan is definitely one who can be counted on when your family needs support.
Logan says "the reason I love what I do is because I serve families. I am able to ease the pain, lessen the burden and am able to manaaki (care) and awhi (support) them when they need it the most…".