Scottie Williams – PGDipBus; DipMent; CertBranding; CertTeReoMao
Senior Funeral Director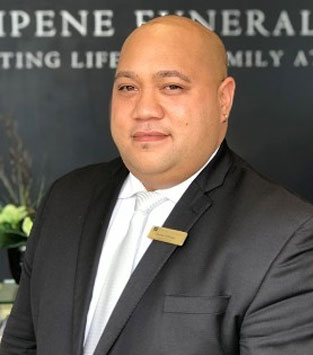 Born and bred in the West of Auckland and attending Pomaria Primary School, Henderson Intermediate and Waitakere College, Scottie is certainly proud to call himself a 'Westie'.
With a University education from both The University of Auckland and Unitec New Zealand, Scottie has a Post Graduate degree in Business Administration, Diploma in Mentoring, Certificates in Te Reo Maori Studies, Marketing and PR and various other health industry certificates.
At a young age, Scottie was always fixed on being of service to his people and communities. As a Funeral Director and Business Manager looking after families and the business' development needs, Scottie's passion for the work he does with families comes from serving people of all creeds, cultures and ethnicities with the ability of "Celebrating Life, One Family at a Time…".
Among Funeral Directing, Scottie also deals with marketing and PR, HR and Policy and Procedural Development, and inducts and trains new staff to ensure that we are maintaining the highest standard of quality of care, dignity and respect which is paramount to the work we do at Tipene Funerals, whether in Onehunga or Henderson.
One of Scottie's fondest moments is being able to serve a family who had lost their son to a tragic accident. "Being able to be of service to the family in their time of need was a beautiful experience that, although was tough and demanding, was also rewarding and satisfying knowing that I could be there when they needed me the most… they trusted me…".